A full program of activities and 2024 fees will be announced in the coming weeks. Sydney Youth Orchestras is a not for profit organisation. Musician fees comprise only 33% of the full cost of the SYO Annual Training Program. Through support from Create NSW, our loyal donors and generous sponsors, all musicians' annual fees are subsidised.
All fees are non-refundable.
Auditions New Musicians
$65
Auditions Returning Musicians
$55
Auxiliary Instrument
$50
Free
For musicians auditioning with an additional auxiliary instrument (e.g. piccolo or bass clarinet) or an additional endangered instrument, a second audition fee will not be charged. If you are auditioning on two different instruments (eg. violin and oboe), you will be required to pay two audition fees as your audition videos are assessed by two different audition panels.
Fees
SYO Strings (Stage 1, Stage 2, Stage 3)  = $1545

SYO Prep = $1345
Symphonic Orchestral Program (PSO, WSYO, SWO, RGCO) = $1945*
*This includes the 5day NSW Youth Orchestral Music Camp in April School Holidays 2023


SYOP & The SYO = $1545*
*This includes the Orchestral Retreat in February 2023


Note: These are the total annual fees and include Association membership and transaction fees. 
Payment Options
Fees paid in full online (credit or debit card)
SYO accepts Visa and Mastercard only.
Fees paid in full by other means (cash, cheque, EFT)
If you wish to pay via other means, choose your preferred method of payment on submission of the enrolment form and SYO will contact you to finalise your 2023 participation fee.
Fees paid automatically over 10 monthly instalments
Families have the option to pay their fees over 10 months by automatic direct debit or credit card payment. Please note that there will be an administration fee for this option and payments will be processed via Stripe.
For more details please read our full Terms and Conditions.
Additional Programs
Orchestral Musicianship - Symphonic Orchestral Programs
(SYOnline) for musicians in Symphonic Orchestral Program the – $320
Non - SYO Musicians - $480

Second Orchestra Fee – $350 
(Musicians participating in a second orchestra)
Discounts
Early bird discount – $50 (Full fees paid by 4th January 2023)
Sibling discount (per musician) – $100 (At least two family members enrolled)
For further details on SYO Scholarships (including Regional, Tertiary, Principal Chair, Opportunity)  click here
Creative Kids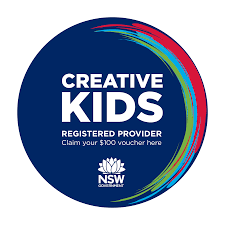 SYO is a registered Creative Kids provider. To check your voucher eligibility or apply for a voucher, please visit the Service NSW website.
Only one voucher can be redeemed per SYO activity. If the cost of the chosen activity is less than $100, the voucher cannot be used
Vouchers cannot be redeemed for cash
Vouchers can only be redeemed in the year of issue; ie. a voucher issued in 2022 will expire on the 31st of December 2022.
Deadline for 2022 Vouchers: If you are enrolling for SYO 2023 but would like to use your 2022 voucher, you must fill your enrolment form by 31 December 2022. After this date, 2022 vouchers cannot be redeemed
Using a 2023 Voucher: If you intend to use a 2023 voucher, wait until January, request your voucher from Service NSW and then fill your SYO enrolment form before 14 January 2023.