"A great experience getting to work one on one with accompanists and get specialist teachers who could coax us through the do's and don'ts when it came to past papers, as well as meet likeminded students eager to learn as much as possible." - Cordelia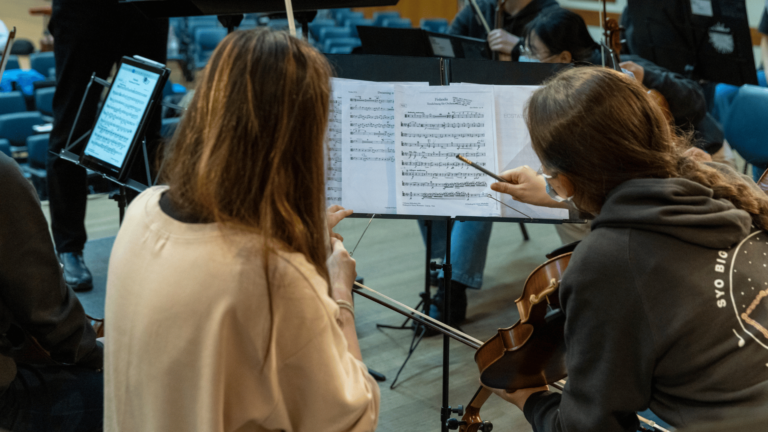 Presented by highly experienced music educators and HSC markers, the HSC Preparatory Course at SYO Summer School is specifically designed to assist students in Years 10, 11 & 12 (in 2024) to prepare for and polish their understanding of HSC Music 2 & Music Extension in a focused, supportive and engaging environment. 
HSC Summer School will specifically focus on HSC Composition and Musicology requirements, giving students the opportunity to develop their understanding of these two core syllabus areas.  
 Why not consolidate your learning further by attending the HSC Winter School (July 15-19th, 2024) too? HSC Summer School will focus on HSC Performance, Past Examination Papers and Sight Singing. Package options are available via the registration form. 
Registrations are open now! 
When:
15th - 19th January 2024 
Where: 
Santa Sabina College in Strathfield
or
SYOnline
Time:
3:30pm-6:00pm
HSC Summer School only **                                                                                              $380       
Optional One-on-one Composition add-on                                                                          $50 

*All enrolments have an added $10.50 transaction fee 
**Open to students in Years 10, 11 and 12 in 2024 only (Music 2/Music Extension students only)


Summer School only                                                                                                            $595 
Summer School & HSC Summer School package **                                                     $795
HSC Summer & HSC Winter School package                                                                          $700 
Sibling Discount***                                                                                                              $45 
Summer & Winter School package                                                                                   $1130 
Full Package (Summer & Winter School plus HSC Summer & Winter School)         $1500
 
*** Sibling Discounts do not apply to the HSC Holiday Programs. To activate the $ sibling discount for our Standard Holiday Programs, please complete the form for the first child, select the option "Yes" when asked about siblings also participating in our Standard Holiday Programs and then apply for subsequent siblings with the code you receive via e-mail. All subsequent siblings booked will be eligible for a $ discount for our Standard Holiday Programs. 
The 2024 HSC Summer School will be presented by:
John Ockwell - Conductor of SYO's Peter Seymour Orchestra, Director of Orchestra and Strings at Fort St High School, Co-Conductor of The Arts Unit NSW Public Schools Symphony Orchestra.
Jeffrey Willey - Head of Music/CAPA at Sydney Conservatorium High School and HSC Senior Marker.
With a combined experience of over 40 years in teaching and marking HSC Music 2/ Extension, the insights and knowledge these educators have is exceptional. Don't miss out on their advice, tips and tricks to get you in the best position possible for your upcoming exams.
Recommended For:
All Year 11 & 12 HSC Music 2/Extension students (in 2024) as well as Year 10 students (in 2024) preparing for HSC Music 2/Extension.
HSC Summer School will run both online and in-person, giving musicians who are unable to attend in person the option to participate in the program.
Composition Session:
There is an optional extra composition session available with one of the facilitators.
Faculty:
This course is facilitated by John Ockwell and Jeffrey Willey.