2023 Summer School
Summer School January 16-21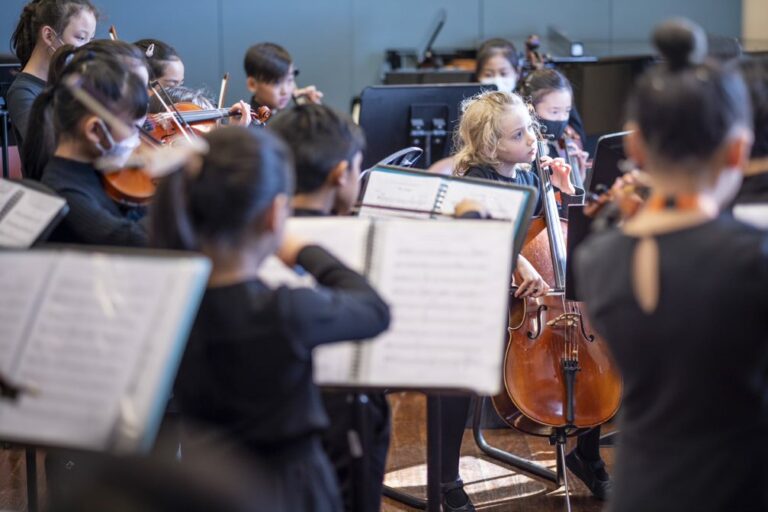 "I felt so excited in the orchestra it was my first time playing in an orchestra. There were even double basses!" - Allegra
Join SYO for a week of amazing music making in a vibrant and fun atmosphere where you can really stretch yourself musically alongside other likeminded students. 
SYO's Summer School 2023 promises to be the very best orchestral training holiday program for young musicians.  
You will be led by some of Australia's finest conductors and tutors and will perform in the stunning Lower Town Hall at the famous Sydney Town Hall. 
Summer School offers five fun days of music learning – targeted at a variety of musical levels; within a band or orchestral environment.   
On the sixth day – your learning will be showcased at a concert, to be held on Saturday 21 January, 2023. 


Register now as places are strictly limited. 
Monday to Friday
Santa Sabina College in Strathfield
Saturday
Sydney Lower Town Hall
Standard Summer Program                                              $595 
Standard Summer Program + Summer HSC **             $770 
Summer HSC Program Only **                                         $350       
Sibling Discount***                                                            $70 
Standard Summer AND Winter Program                       $1100 
Summer HSC AND Winter HSC Program                        $650 
Full Package (Standard Summer & Winter Program
AND HSC Summer & Winter Program)                           $1500 
*All enrolments have an added $10.50 transaction fee 
**Open to students in Years 10, 11 and 12 in 2023 only (Music 2/Music Extension students only)
***To activate the $70.00 sibling discount, please complete this form for the first child, select the option "Yes" when asked about siblings also participating in Summer School and then apply for subsequent siblings with the code you receive via e-mail. All subsequent siblings booked will be eligible for a $70 discount on the Summer School Standard Program. Sibling Discounts do not apply to the HSC Summer School. 
Ages: 5 - 18 
Orchestral Strings and Percussion
First year of playing through to AMusA, must be having private instrumental tuition 
Orchestral Brass and Woodwind
Over one year of learning their instrument through to AMusA, must be having private instrumental tuition  
All musicians are required to bring their OWN instruments (excluding large percussion instruments) 
Any musician who is a primary or secondary school student and resides at least 200k from the Sydney CBD is eligible to apply for scholarship support. Successful applicants will receive a full or partial waiver on the participation fee ($600.00+GST) plus a travel and accommodation bursary. The amount of this bursary is dependent on the circumstances of the applicant. Applications for the Regional Summer School Scholarship program close on Sunday 27th November. All applicants will be notified of their result on Friday 9th December.
Please note, applying for a scholarship does not guarantee a place in the program. If your attendance is not dependent on receiving a scholarship then you may complete the enrolment form to secure your place. If awarded a scholarship after the application and assessment process, you will receive a partial or full refund on the Standard Program.  
You may apply for the scholarship without enrolling however this does not guarantee your place.  
The HSC Preparatory program is not eligible for scholarship support.  
SYO does not organise any accommodation for Summer School. Participants are to book their own accommodation.
Apply for a Regional Scholarship by clicking here.
You may apply for a scholarship for both Summer and Winter School on the same form.
Use your $100 Creative Kids rebate with Sydney Youth Orchestras before it expires! Vouchers will expire on December 31st 2022. SYO is a registered Creative Kids provider and encourage the use of Creative Kids vouchers for our programs. Your voucher can be applied to automatically receive $100 off your program fees.